Eyewear Aficionado: Duggie Fields
Last time I was in London I had the pleasure of spending time with Duggie Fields. Duggie is a noted artist. He creates bold, bright, maximalist works suffused with color.
There are many interesting things about Duggie, but one I find especially interesting is how his aesthetic expresses itself not only through his art but through his person and all elements of his environment.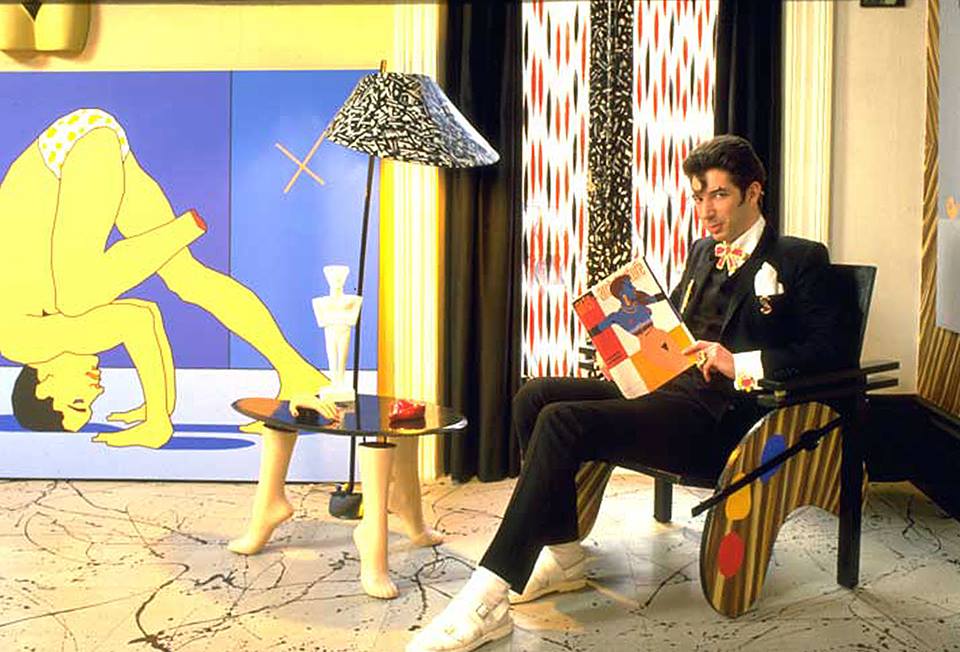 Duggie came down to London for art school in 1963; about the time the Rolling Stones started playing there and the real Sixties were beginning. London was the coolest place in the world and Duggie was at the center of what was then Underground culture. He was living with Pink Floyd as they launched the psychedelic era in England. He then lived with Syd Barrett again. Duggie's current studio is Syd's old bedroom.
Duggie was close to numerous other creators over the years. Acclaimed filmmaker Derek Jarman made a short film about Duggie, and included Duggie in numerous projects including his film Jubilee, which featured many Punk and Underground icons.
Duggie has been near the center of Underground culture in London for nearly 50 years. All the while he's continued to produce remarkable art.
Me: What was the first art you ever noticed…..
Duggie: my parents had some small books on Henry Moore, John Piper and other British Artist of the 1940's and had a couple of figurative paintings in the living room……..but I think the first artist that struck me, other than Picasso who was ubiquitous in that period (turn of 1950's maybe) was Leger……
And elements of Léger's later more figurative work resonate in Duggie's own. These canvases are good examples:
Me: What was the first fashion you ever noticed?
Duggie: My mother possibly……..having come to the country from London, we lived in a small village, was more stylish than most
Me: What were the first sunglasses you ever noticed?
Duggie: My parents sold sunglasses in their Chemist shop…….
the shop was initially called FIELD'S CASH CHEMISTS AND ELECTRICAL UTILITIES LTD…………..later just FIELD'S CHEMISTS………..they had for the Coronation sold the first Televisions in the neighbourhood as well as having a large contingent in to watch it on a 4ft square projection set (serious rarity in those days) they had a few other screens on in the house………..and a cosmetics and perfume department with sunglasses…..so I was used to revolving racks of them……..
What were the first sunglasses you ever bought?
from our shop but I don't remember them………….I did wear them to school but was told off…however I used to get migraine and was convinced sunlight was a trigger and that they helped………..when I went to the South of France for the first time aged 16..they broke and I couldn't afford to buy any there and the migraines just sort of stopped anyway……….
Do you find a parallel between creating your art and creating your persona with fashion to go out for the day?
The visual world doesn't stop or start with the idea of 'making art'……my eyes see what they see..so it's impossible to not be me when looking at work or 'non' work if there ever is such a thing….. but I don't think I have a 'persona'…I just am what I am……..self-definition being a part of visualising the world both externally and internally in a functional manner…….co-existence.
If so what part do the sunglasses play in forging your persona?
So they started as functional against light but of course conditioned by the 'glamour' they had acquired from film and media, what little there was then….
How many pair do you have? Which are your favorites?
I'm not sure how many pairs I have.. I used to collect them…then I started reducing my clutter which anything I've collected always seems to become after a while…..which doesn't stop me from getting more later………But I only tend to wear one pair every day until another replaces it……….
current most worn are a pair of COMME DES GARCONS/CUTLER & GROSS glasses that were designed for me as part of the Comme Menswear collection that was based on 'my style' a few years ago……..I didn't wear them for 5 years after as the lenses were too dark..then I got Cutler&Gross (Tony GRoss is an old friend). to put in paler/warmer ones and have worn them daily ever since. They replaced the Moss Lipow ones I was wearing before which in return replaced a vintage Dior pair I had been given………Mostly I like white frames.
Had some really great 60's ones I found in New York thrift stores in the'70s long gone now sadly…the best were white, sort of squashed elongated ovals like cats eyes perhaps with fluorescent pink and orange fabric trim. lost in a cab one night..I was certainly a night time glasses wearer in clubs etc
I had a pair of 1950's black upswept ones in the shape of a pair of pistols pointing inwards. Found them down the Portobello market…..they were featured in one of the first 'retro' books called AUSTERITY BINGE and I eventually sold them on to a collector in America who had seen them in the book. Sometime later I spotted a giant L.A. Eyeworks billboard with a pair that looked the same….
The milieu you reached adulthood in was among the most avant garde in England and spanned the mid 1960s when you lived with Pink Floyd, then lived with Syd Barrett. You were in the midst of the advance of fashion in the 1970s which evolved into the famous clubs of the 1980s. Who were the most ineresting and inspirational people you met in these years?
I met so many interesting and inspirational people then…….but it was just the normal world to me, though I knew it was exceptional I didn't know how the rest of the world would think so later……..except I did too..but of course some of these exceptional ones disintegrated like Syd.
Duggie also does video art. A fine example can be found HERE. A treasure trove of everything can be found at www.duggiefields.com
.
.
.
Either later today or tomorrow I'll post Part Four of our investigation of the origin of aviator sunglasses…